SMS Control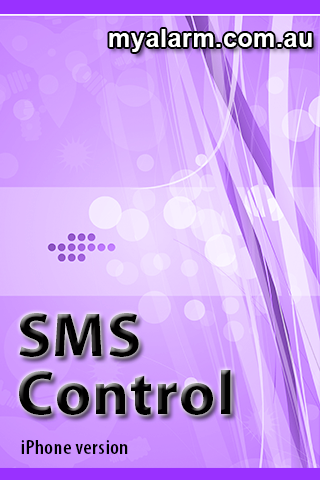 Launch Screen
The MyAlarm SMS Control App for iOS and Android devices allows you to easily create and save SMS templates, which can then be sent to your alarm system to arm or disarm areas, operate outputs, unlock doors, check SIM balance or to check system status.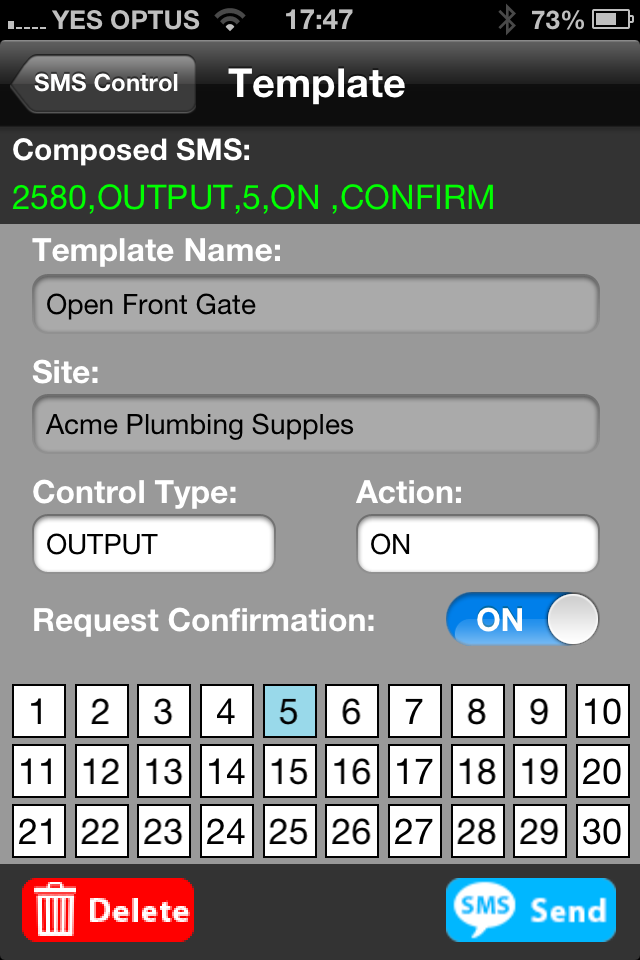 Main Messages Screen
This means you will have ability to remotely control your system anywhere you have mobile coverage. Each template can be given a unique and descriptive name simplifying operation, and for further peace of mind, a confirmation SMS message can be sent by your alarm system to your phone if requested.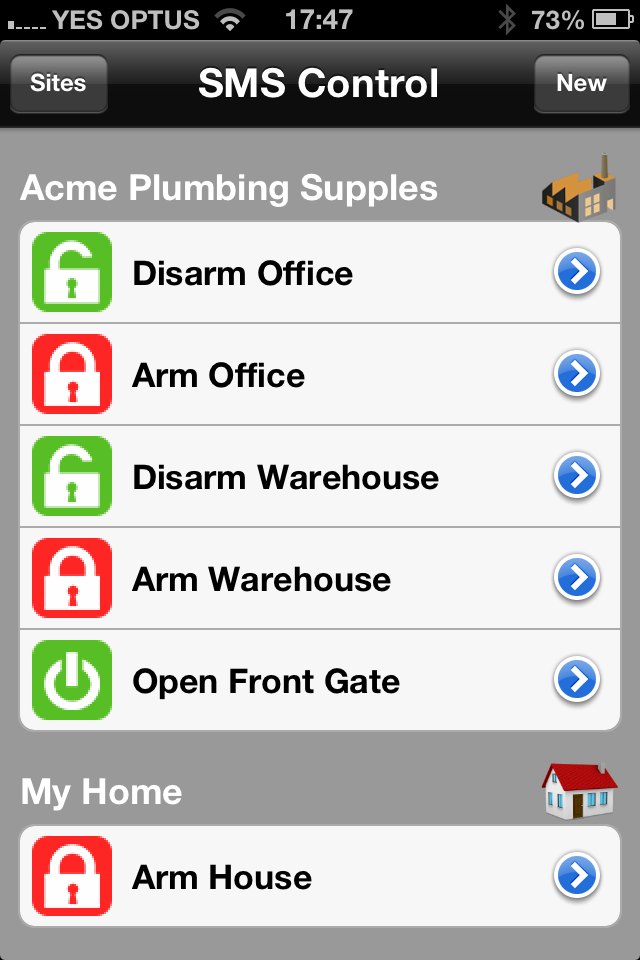 Site Messages Screen
Multiple sites or alarm system can be setup with their own unique templates allowing you to control your home, office, holiday home or other buildings with one app.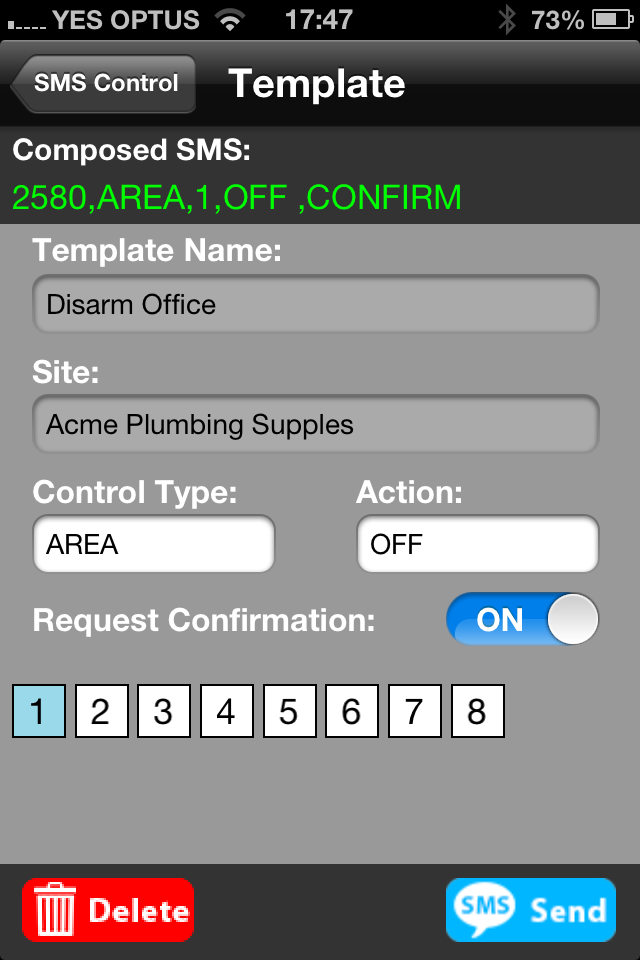 Message Details Screen
Outputs and doors can be easily controlled and if you need to check the current state of any area or output then a status request can be sent.

The SIM balance feature can be configured to alert you when the SIM credit is getting low allows you to recharge before it runs out.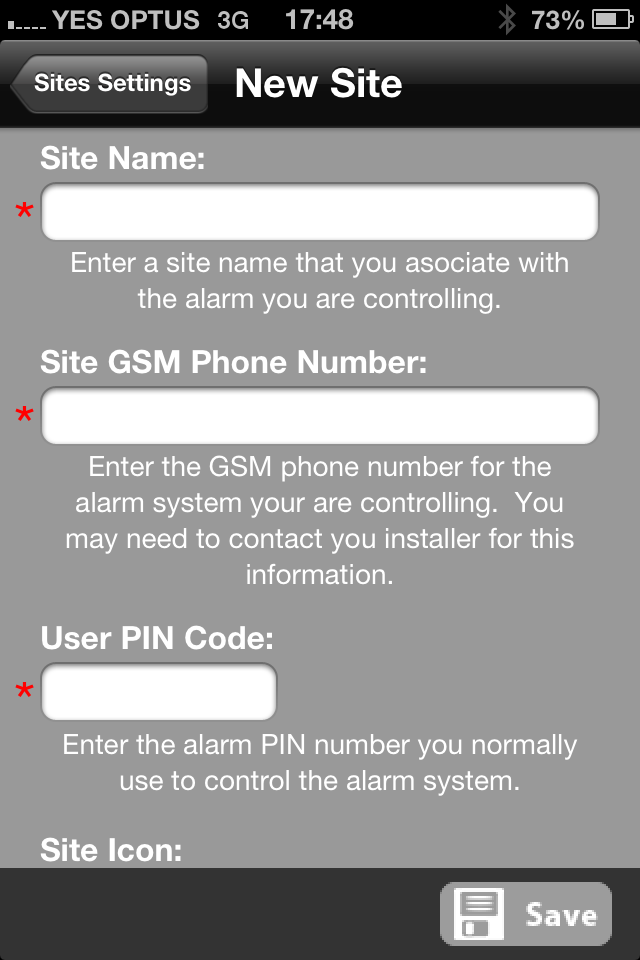 Add New Site Screen
The App and integrated GSM module are currently only compatible with the panels listed below. Some features including SMS balance checking ma require a panel firmware upgrade. If you do not have one of the systems listed below then do not download the App as it currently will only work on these systems.

*Bosch - Solution 144 Alarm Panel

*Bosch - Solution 6000 Alarm Panel

*Digiflex - Vision-X Alarm Panel
The App makes use of your mobile phones ability to send and receive SMS messages and as such it will currently only work on iPhone devices. iPod and iPad devices are not supported. For the SMS Control App to function correctly a number of parameters must be configured in your alarm system including setting up the SMS control options in MENU 6-5-6. Your system must be fitted with the integrated 2G or 3G GSM radio interface module and you need to know the GSM phone number of the SIM card installed in the radio before you can configure the app.

Third party modules are incompatible.
If you are in doubt about how to set these options contact your security professional or installer for assistance.